EPRUI Biotech Co. Ltd. supplies various magnetic beads including iron oxide nanoparticles, polymer magnetic beads and silica magnetic beads.
Our magnetic beads have two types:
Sandwich Type
Core Shell Type
Magnetic Beads with Sandwich Type
Have a polymer core, and a layer of magnetic oxide: Fe2O3 or Fe3O4 nanoparticles in the middle between the polymer core and the outermost layer which is either inorganic or functionalized organic material, which completely covers the magnetic oxide layer to prevent it from potentially incompatible interaction with biomaterials.

Magnetic Beads with Core Shell Type
Magnetic microspheres with core shell structure in which the core is Fe2O3 or Fe3O4 nanoparticles, and the shell is either inorganic or organic material.
The surface of the particle is equipped with various functional groups such as amino, epoxy, carboxyl, and hydroxyl, etc. for different applications. This type of magnetic particles has large specific surface area and high magnetic content.

Product List
daphne
2018-04-02T08:26:00+00:00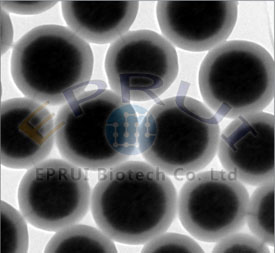 Amino Magnetic Beads are superparamagnetic beads with rich amino groups on the surface thus can bind to polypeptides, antibodies and other proteins, oligonucleotides and certain chemical compounds with certain chemical reagent (such as glutaraldehyde). Amino magnetic nanoparticles are widely used as an important carrier of the medical and molecular biology [...]